We turn your wedding dreams into reality!
You've dreamed of this moment since the time you were a little girl, pretending to walk down the aisle in your mom's heels. You've imagined each precious detail from the smell of your bouquet and the design of your gown to that first dance with the man of your dreams, the two of you gliding effortlessly across the dance floor, embracing one another while the sound of your favorite song echoes in your ears and you look radiant. Now that dream is coming true, you have the perfect guy and you have chosen a date.

That's where Black Tie Entertainment enters the picture, we know how special and important this day is to you and we are dedicated to making your dream come true by orchestrating each aspect of your special day to make it hassle free and perfect, just as you've always imagined it. Through meticulous attention to every detail of your wedding day we allow you to simply relax and enjoy the moment to its fullest. Contact us today to schedule an appointment in the quiet, pressure free comfort of our office where we can discuss the details of your wedding and how Black Tie Entertainment can assist in making your wedding day extraordinary.

Planning your wedding day is making it your own, but running it that day can be very stressful. Our services include day of wedding coordination and a wedding professional dedicated to that job. Your big day will be stress free knowing Black Tie Entertainment is coordinating your wedding day.

Watch us in action:
Read what some of our recent wedding clients have said about us: Testimonials
Add Uplighting to bring your reception to life!
Up-lighting is simply casting a light up a wall or column, to create a truly magical background and give any room an ambient glow! Up-lighting brings your wedding to life and is THE HOTTEST trend in Weddings today.70% of Brides use up-lighting packages to paint an elegant tone at their reception. Look at some pictures, and imagine an Up-Lighting Package enhancing your event!
When coming up with a budget for your wedding think about lighting. For a fraction of the cost of extra flowers, favors, or other types of decorations you can add the elegance of light to your wedding. Uplights not only works well during the entire event but it allows your flowers and other decorations to shine later on in the evening. Guests always notice the lighting and continually thank us and comment on how much it adds to their event. It looks great in the photos as well, turning ordinary candid's during dancing into the beautiful event that your wedding deserves to be. Uplighting is the most affordable way dress up and transform a regular room in to something extravagant.Uplighting adds the all of the extra class that your venue longs for. This creates a beautiful landscape that your guests will surely be impressed by.
Customize the looks of your reception with your own custom colors. These are intelligent LED lights that are controlled by our lighting software. If you have multiple colors, it is no problem. We can smoothly fade the colors in and out however you would like.
Uplighting is growing rapidly in popularity in the wedding scenes these days. It is hard not to notice lighting at wedding receptions and seeing how creative the couples can be. "What is uplighting", you may ask? Uplighting is when LED lights are placed around the room on the ground facing up on the wall to create accents of any color you could dream of.
If you have ever walked into a room with uplighting you can immediately notice the dramatic elegant effect it produces. From the head table to the entire room you should consider the added value of uplighting. Uplighting looks great behind the bridal table and even under the bridal table or cake table to light up the linens to match the walls.
You can use uplighting to enhance the whole reception and bring life to the room. If you are thinking of adding spice and a personal touch to your wedding do not forget to add color. Bring some flare in with colored uplighting and it is sure to add to the mood of your BIG day!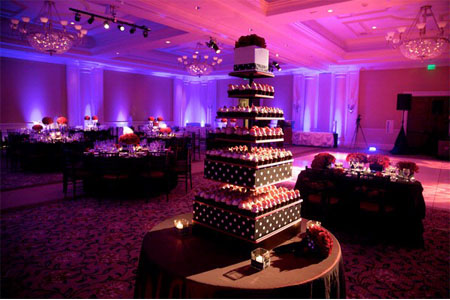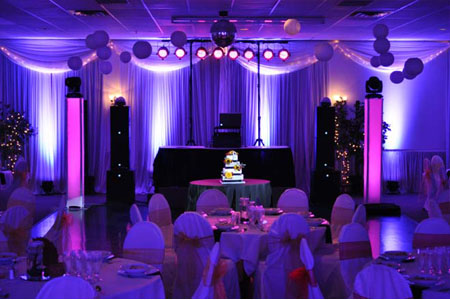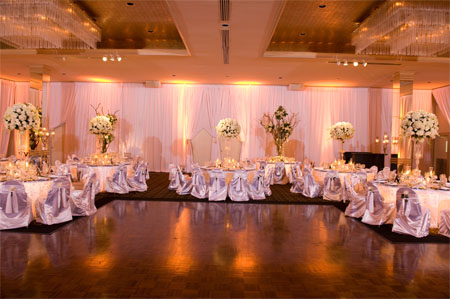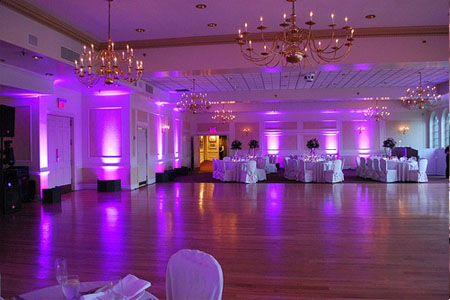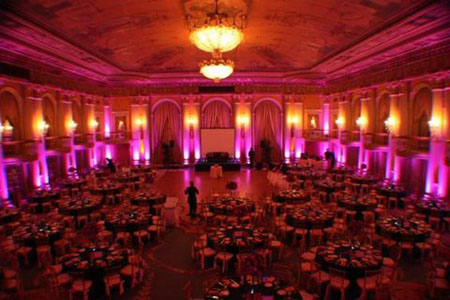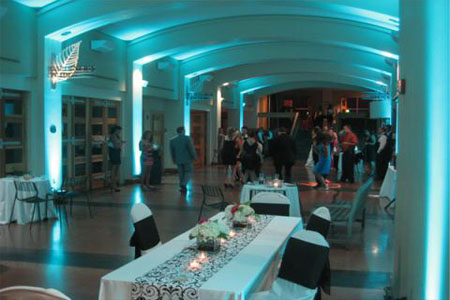 Categories
What we offer
More Info
Check us out at
Local Banquet Centers
Interactive Services
Let us..Make your day!