Wedding DJ Music is our specialty! .....Call us: 330-324-6023
January Special: $300 Off Any Wedding Date if booked before 1/31/19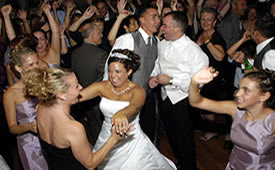 Wedding reception entertainment is our specialty and we work very hard to ensure your day is perfect! Black Tie Entertainment is a licensed and insured professional disc jockey company specializing in wedding receptions throughout the Akron, Canton, Cleveland, Youngstown Ohio area.

Professional quality and attention to every detail is what separates Black Tie Entertainment from other wedding DJs. Weddings are our passion and Black Tie Entertainment will create memorable moments for you and your family and friends. We take pride in customizing every event and providing superior service.

We offer the largest music selection in the Canton Akron Ohio area from the 80's & 90's to today's greatest hits. Our music library is updated weekly and we always welcome your guest's requests.

We use nothing but the best in sound and lighting equipment to ensure the best quality and reliability, and we always carry back up equipment. Dazzling dance floor lights, party giveaways, Photo Both and ambient accent up-lighting are always an option to add that extra excitement.

As the Master of Ceremonies our wedding DJs serve as the reception's coordinator to assure that all events proceed smoothly and on time. Our aim is to carry out your tastes and preferences in a way that ensures a seamless, stress free event for you and your family. We check in with you throughout the course of the event and make sure your bridal party, service staff, and other vendors are kept informed as to when key formalities and events are happening. This is our approach at Black Tie Entertainment.

Read what some of our recent wedding clients have said about us: Testimonials
Check out Black Tie Entertainment in action: YouTube Videos
We always come dressed for the Occasion!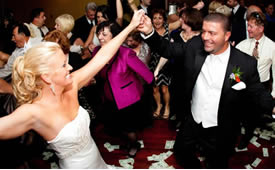 At Black Tie Entertainment we are always dressed for the occasion weather it be a tuxedo you prefer or a costume to fit the theme.

We offer pricing and packages to meet all budgets and weddings entertainment needs...Learn more.
---
Packages
Weddings are our specialty and we work very hard to ensure your day is perfect!  Our Wedding DJ packages are easy to choose from and all inclusive with all the basics like great sound, an amazing music selection, day of reception coordination, dance floor lighting, online planning / music services, and so much more!...Learn more.
Day of Reception
Planning your wedding day is making it your own, but running it that day can be very stressful. Our services include day of wedding coordination and a wedding professional dedicated to that job.Your big day will be stress free knowing Black Tie Entertainment is coordinating your wedding day...Learn more.
Music
The right tunes at the right time!
Black Tie Entertainment obtains the latest and greatest songs weekly. We also have an extensive database of classics and everything in between. With a Black Tie Entertainment wedding disc jockey, everyone gets to hear their favorite music...Learn more.
Watch us in action:
"
Wedding DJ Akron, Wedding DJ Canton, Wedding DJ Cleveland, Wedding DJ Medina, Wedding DJ Youngstown

Categories
What we offer
More Info
Check us out at
Local Banquet Centers
Interactive Services
Let us..Make your day!
Wedding Dj Canton
Wedding Dj Akron
Wedding Dj Medina
Wedding Dj Ohio